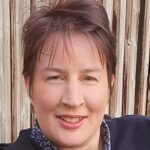 Hi, welcome to my website. 
Firstly let me just say thank you for visiting here. It takes a lot of courage to admit something isn't right and to then a whole lot more to take that initial first steps in seeking help. You are not alone
I'm Carol; after years in a career in Warehousing and Retail, it became quite obvious that I wanted more from my life. I was no longer excited by hitting targets and managing productivities, there was no spark of joy for me anymore. 
I realised that I wanted to feel like I was making a real difference in other peoples' lives, and so with a deep breath, and some of nudging from those around me I retrained and became a counsellor.
I had always been drawn to people and they seemed to feel comfortable – often seeking me out – talking to me. Listening and empowering them when they felt at their most lowest point inspired me to embrace my new career and has provided me with a sense of achievement and a real meaning to my life which I recognised was missing.
Now I have have my own private practice and the privilege of being able to support individuals who are struggling with their mental health and well-being. I work with adults and older teens (15+), specialising in anxiety issues and work related stresses.
Why work with me?
How can I help you?
I have made a positive difference in many peoples' lives. In my private practice I provide a safe confidential and nurturing space for you to explore your own unique experiences, thoughts and feelings. Together, we work to understand and find strategies, tools and solutions that enable you to make the positive changes you want to make. I draw on my training, personal life experiences, previous occupations and experience gained whilst volunteering for the mental health charity Mind
I am an Accredited Registrant member of the National Counselling Society (NCS). To become a member and to keep my membership in good standing, I have had to demonstrate my level of qualification, have valid liability insurance, keep my skills up to date and current, to work to their ethical framework and be subject to their conduct procedures
Qualifications
Diploma in Psychotherapeutic Counselling – Advanced Level 4
Diploma in Counselling Skills and Theory – Level 4
Certificate in Hypnotherapy and Counselling Skills – Level 3
Understanding Children and Young Peoples Mental Health – Level 2
First Aid and Mental Health Advocacy in the Workplace – Level 2
How to do counselling online
Understanding Depression and Anxiety
Challenging Ideas In Mental Health
Dealing with Distress: Working with Suicide and Self-Harm
Integrating care: depression, anxiety and physical illness
Understanding Anxiety, depression and CBT
Mental Health and Stress in the Workplace